The holiday season can make it difficult to stick to a diet. With plates of turkey topped with warm gravy, mounds of fluffy mashed potatoes, and homemade apple pies being passed around the table, it can be hard to say "no" and opt for healthier options instead. That is, if they are even offered at your meal. But you don't have to sacrifice your diet, or the meal you've been looking forward to all year, with these delicious, yet diet-friendly, dishes.
Would you believe us if we told you that you can still eat stuffing on Thanksgiving without ruining your diet? Well, it's true with this Thanksgiving Stuffing Poppers recipe! Not only are these savory bites a healthy alternative, but they are also vegan and gluten free. The poppers are made from chickpeas and veggies, and the recipe even includes a cranberry jalapeno sauce so you can get your cranberry fix this season as well!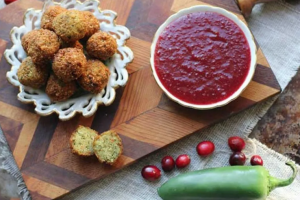 Rosemary Garlic Mashed Cauliflower
Not a fan of cauliflower? Don't knock this Rosemary Garlic Mashed Cauliflower recipe before you try it! This dish is a great healthy substitute to mashed potatoes and you may even end up preferring this version over the traditional side dish! It is low on calories, but high on flavor. The best part yet? It's super easy — calling for only 5 ingredients (cauliflower, cream cheese, garlic, butter, and rosemary) and taking less than 30 minutes from start to finish.
This Healthy Green Bean Casserole may not be your grandmother's recipe, but it will still taste delicious and save 160 calories and 12 grams of saturated fat. Typical green bean casserole recipes include a heavy cream sauce and buttered breadcrumbs or cheese, but this recipe uses low-fat milk and whole wheat breadcrumbs instead. Eat up!
Some may deem the turkey as the most important part of the Thanksgiving meal and with this healthy Rosemary Turkey Breast recipe, you don't have to give the bird up this year! Instead of frying your turkey or marinating it in butter, use seasonings, such as paprika, garlic, and rosemary to add flavor, and roast the turkey in the oven.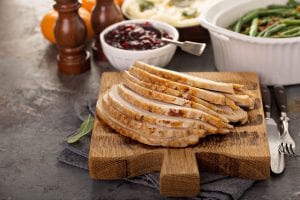 Turkey Sausage-Stuffed Acorn Squash
This main dish replacement may be a little less traditional for Thanksgiving dinner, but you'll still get your Turkey fix and leave with a pleased palate. If you or your guests are vegetarian, you can simply leave out the turkey sausage from the recipe and stuff the squash with the vegetables, seeds, and seasonings to please everyone's dietary restrictions.
Yes, you can have your pie and eat it too. This Light and Luscious Pumpkin Pie recipe will satisfy your sweet tooth without derailing your meal plan. It is only 187 calories for a single slice of pie and nut-free, soy-free, and diabetic appropriate. This pie will be a real crowd pleaser, even to those not counting calories this holiday season.
If you prefer Apple Pie over Pumpkin Pie — or you just want both, no judgement here — try this Cranberry Apple Maple Crisp instead! This grain-free, guilt-free dessert will have you coming back for seconds, or even thirds!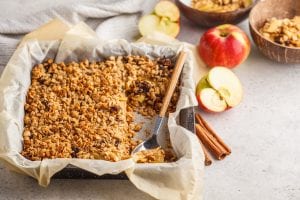 With these simple, delicious, and healthy Thanksgiving meal alternatives, you don't have to dread your holiday season. Enjoy yourself without worrying about overindulging and ruining your diet.
If you're waiting until after the holidays to begin your weight-loss journey, there's nothing wrong with that either. Schedule a consultation with us today and see how our Serotonin-Plus Weight Loss Program may be the right choice for you. Our program focuses on diet, lifestyle changes, and medical supplements.